Title:
George-a-Greene, the Pinner of Wakefield.
Author:
???
Earliest Extant Edition:
1599.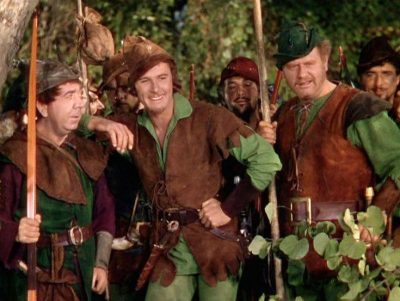 Genre: Legend, Pseudo-History.
Language Difficulty Rating: 2 (about the least difficult it can be).
Setting: Primarily West Yorkshire county.
Style: mixed verse and prose.
WHY SHOULD I READ THIS PLAY?
the play is short and of easy-reading, making it a great starter-play.

through this play, we may learn about an important legendary figure from English folklore.

Robin Hood makes an early stage-appearance in this play.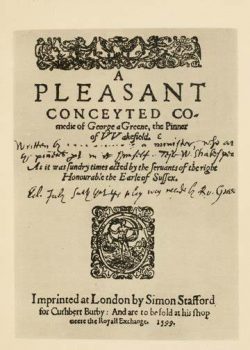 Poor George-a-Greene! This legendary character, who even single-handedly put down a national rebellion, thus saving the house of Plantagenet from disgrace and disaster, was never played by Douglas Fairbanks, Errol Flynn, or Kevin Costner. In fact, has yet to be portrayed even once in a movie or television program; meanwhile, his contemporary and friend, Robin Hood, who could hardly have been said to have accomplished as much as George-a-Greene, has been appearing on screens since the earliest days of silent cinema.
George-a-Greene was, however, the subject of an Elizabethan play, entitled George-a-Greene, the Pinner of Wakefield. The author of this farce is unknown − the play was historically, though tentatively, attributed to Robert Greene − and the earliest surviving edition is from 1599, though the it was known to have been performed as early as 1593. Our play recounts several once-well-known stories about George-a-Greene, including his putting down an insurrection, and his famous introduction to Robin Hood. It is also a brief and not-to-difficult-to-read play, making it a great bit of drama to read for those who are still learning to read and understand Elizabethan plays and language.
Download and Read

George-a-Greene

:

Online Reading:
Annotated Edition, pdf

White Background for Printing:
Annotated Edition, pdf

Theatre Script:
George-a-Greene Script