Title:

The Arraignment of Paris.

Author:
George Peele.
Performed:
c. 1581.
First Published:
1584.
Genre: Mythological, Pastoral.
Language Difficulty Rating: 7 (moderately difficult)
Setting: Mt. Ida near Troy in Asia Minor.
Style: Verse.
The Arraignment of Paris is the earliest Elizabethan play written in verse by a major Elizabethan playwright. Here Peele retells one of the most famous of all classical myths, the Judgment of Paris, in which the Trojan prince Paris is selected to decide the winner of a beauty contest between three goddesses; Peele, however, adds a second element to the story, in which the losers of his decision charge Paris with unfair bias, and he is brought to trial in front of a tribune made up of the major gods of the Roman pantheon.
Peele's first play, Paris is not yet a completely "modern"; it contains some traditional elements that were quickly to be discarded by dramatists like Christopher Marlowe and William Shakespeare in the ensuing decade: for example, almost the entire play is written in rhyming couplets, and the play is written in an uneven mix of iambic pentameter (new) and iambic heptameter (old). Peele, however, does employ blank (that is, unrhymed) verse in iambic pentameter in several major speeches, thus providing a hint to his audience – and perhaps to future budding playwrights – of the path to follow.
One modern element added by P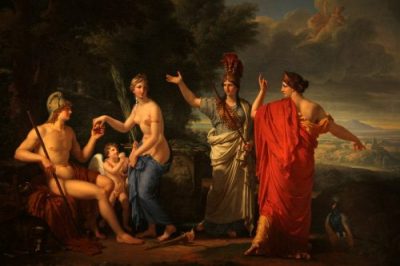 eele is the addition of a few bits of humorous material to an otherwise lyrically beautiful but decidedly academically serious text; the humour, though, is crude, and is comprised the goddesses bickering over their love-lives, and some randy gods chasing a nymph.
Our Story: Three Olympian goddesses – Juno, Pallas, and Aphrodite – are visiting Mt. Ida, when the goddess of discord, Ate, secretly rolls a golden ball (or apple) into their path; the inscription on the ball instructs that it be given to the most beautiful goddess; the ladies immediately begin to quarrel over which of them deserves the prize, but, unable to agree, select the Trojan prince Paris – who is also a shepherd – to be their umpire. His decision will create great unhappiness in the losers.
Download and Read

The Arraignment of Paris

:
On-line Reading: 
Annotated Edition, pdf
Annotated Edition, text file
Play Alone, text file
Download to E-Reader (e-pub file):
Annotated Edition
Play Alone

____________
Still-Familiar Words and Phrases that Appeared in English Literature for the First Time
in The Arraignment of Paris:
curl (used as a noun)
the expression conductor of the train (though this has nothing to do with railroads!)
connecting true and blue
lady-president
the expression length of ground
par excellence